FAMILY-BASED PETITIONS: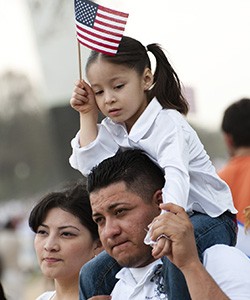 We provide assistance with permanent resident filings based on family member relationships.
WAIVERS:
We provide legal services where waivers of inadmissibility, criminal grounds, and other bars are possible.
CITIZENSHIP AND NATURALIZATION:
We represent individuals with naturalization cases by completing all required forms, acquiring necessary evidence, helping clients in preparing for the naturalization interview and attending the interview with our clients.
If you need assistance with a family-based petition or immigration matter, contact our law office today at (561) 826-9339 to schedule an initial consultation.
Located in Boca Raton, Florida, The Law Offices of Isabel Castillo, P.A. provides individual and corporate immigration law and personal injury law counsel in Palm Beach County, Boca Raton, Delray Beach, Boynton Beach, Lake Worth, Palm Beach, Broward County, Coconut Creek, Coral Springs, Davie, Deerfield Beach, Fort Lauderdale, Hollywood, Margate, Miramar, Oakland Park, Pembroke Pines, Plantation, Pompano Beach, Tamarac, Weston, Miami-Dade County, Aventura, Coral Gables, Doral, and Miami. They also provide services to international clients from around the world including Mexico, Central America, Guatemala, El Salvador, Honduras, Panama, the Caribbean, Trinidad and Tobago, Bahamas, Haiti, Jamaica, South America, Venezuela, Colombia, Ecuador, Peru, Brazil, Paraguay, Europe, Spain, England, Ireland, France, Africa, Egypt, Dubai, Asia, China, Philippines, and Vietnam.